This morning has been a week! After last night's excitement, when we learned that Trump had been indicted in Miami on seven counts of willfully retaining national defense secrets in violation of the Espionage Act, making false statements, and a conspiracy to obstruct justice, we awoke to news from CNN that LORDY, THERE WERE TAPES.
Well, to be fair, we already knew that Trump had been caught bragging to Mark Meadows's biographers about possessing a classified document. Apparently, Trump distrusts the media and had his aide Margo Martin record the conversation to ensure they didn't lie about what he said, which is how the tape wound up in the Special Counsel's possession when they seized her laptop. But CNN got a transcript of the perfect, perfect interview, and, wow, it's bad!
"As president, I could have declassified, but now I can't," he said, audibly rustling a pile of papers on his desk. "Secret. This is secret information. Look, look at this. This was done by the military and given to me."
Later he added: "All sorts of stuff – pages long, look. Wait a minute, let's see here. I just found, isn't that amazing? This totally wins my case, you know. Except it is like, highly confidential. Secret. This is secret information. Look, look at this."
---
This would appear to be an admission that (1) Trump retained classified documents; and (2) he knew perfectly well that they remained classified even after he removed them from the White House. So much for all that idiotic chatter about telepathically transubstantiating everything he could stuff in his pockets on the way out of the Oval Office with the power of his mind.
As previously reported by CNN, Trump was pissed about a story by Susan Glasser at The New Yorker implying that Chairman of the Joint Chiefs of Staff Gen. Mark Milley stopped Trump from invading Iran after the election as a desperate ploy to stay in office. Trump was apparently so miffed about it that he bragged to reporters that he kept a classified document refuting that claim, and that it was then in his possession at his private club in Bedminster, New Jersey.
"Well, with Milley – uh, let me see that, I'll show you an example. He said that I wanted to attack Iran. Isn't that amazing? I have a big pile of papers, this thing just came up. Look. This was him," CNN quotes from the Trump transcript. "They presented me this – this is off the record, but – they presented me this. This was him. This was the Defense Department and him. We looked at some. This was him. This wasn't done by me, this was him."
But then, Trump got a stroke of good luck. Maybe good enough to save his ass in the end. Because ABC reports that the Justice Department designated this case as related to the prior warrant to search Mar-a-Lago issued by Magistrate Judge Bruce Reinhart and the subsequent challenge to the warrant overseen by … Judge Aileen Cannon. That would mean that the same judge who tried to ratfuck the investigation by entertaining ludicrous challenges to the validity of the search and Trump's ability to assert executive privilege to block the investigation is now overseeing Trump's prosecution.
There is no way to describe how bad this is. Judge Cannon has shown herself more than willing to put her thumb on the scale and discard law, facts, and ethics to protect Trump. She can and will fuck this case up by tossing out all the evidence if she winds up hearing it. Former federal prosecutor Joyce Vance is suggesting that maybe the DOJ will force a recusal, or, failing that, that the Eleventh Circuit will stay Judge Cannon's evil hand.
And perhaps that's correct, although it doesn't explain why prosecutors designated the case as "related" in the first place. The indictment is being filed in Miami, and Judge Cannon sits in Fort Pierce — they would almost certainly have drawn another judge had they not designated it related to the warrants case. So, either Special Counsel Jack Smith has made an absolutely massive error in judgement along the lines of Special Counsel Robert Mueller thinking that a Republican Congress would impeach when he dropped evidence of Trump crimes in their laps, or … there's something we aren't seeing yet.
In the meantime, the Wall Street Journal is reporting that Trump's aide Walt Nauta has also been charged in the Trump indictment. Nauta, a valet, is reported to have given multiple different accounts to prosecutors of how he came to be on tape moving boxes in and out of the closet where Trump was keeping the documents he stole from the White House. The Guardian reported yesterday that Nauta's lawyer Stan Woodward has alleged improper conduct by prosecutor Jay Bratt, the head of the DOJ's counterintelligence division.
When Woodward arrived at the conference room, he was seated across from several prosecutors working on the investigation, including the chief of the counterintelligence section, Jay Bratt, who explained that they wanted Nauta to cooperate with the government against Trump, the letter said.

Nauta should cooperate with the government because he had given potentially conflicting testimony that could result in a false statements charge, the prosecutors said according to the letter. Woodward is said to have demurred, disputing that Nauta had made false statements.

Bratt then turned to Woodward and remarked that he did not think that Woodward was a "Trump guy" and that "he would do the right thing", before noting that he knew Woodward had submitted an application to be a judge at the superior court in Washington DC that was currently pending, the letter said.

The allegation, in essence, is that Bratt suggested Woodward's judicial application might be considered more favorably if he and his client cooperated against Trump.
So, that is all batshit. And it's only noon, so we're going to stop typing now before something else drops.
Oh, whoops, too late!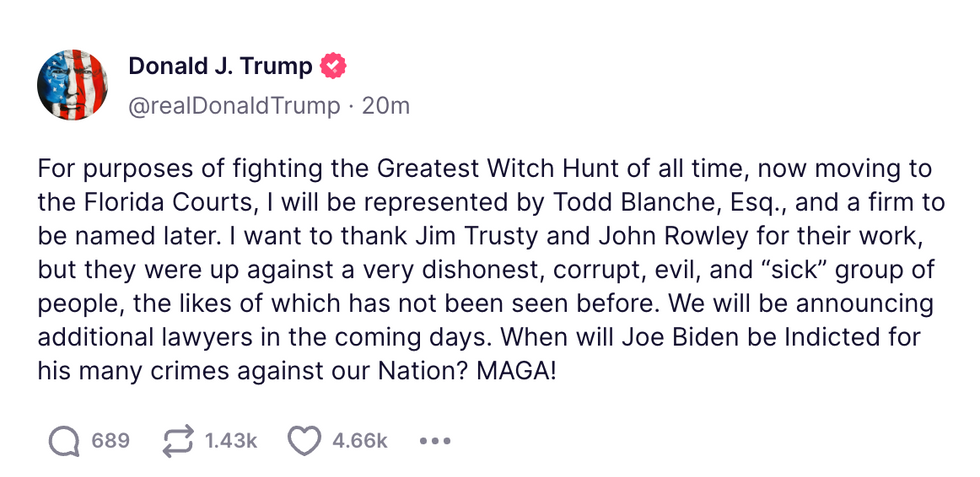 TL, DR? Let's see what happens Tuesday when the indictment drops. If indeed this case winds up in front of Judge Cannon, then it will be time to panic. But until then, don't ruin your weekend — it wouldn't help anyway.
Catch Liz Dye on Opening Arguments podcast.
Click the widget to keep your Wonkette ad-free and feisty. And if you're ordering from Amazon, use this link, because reasons.