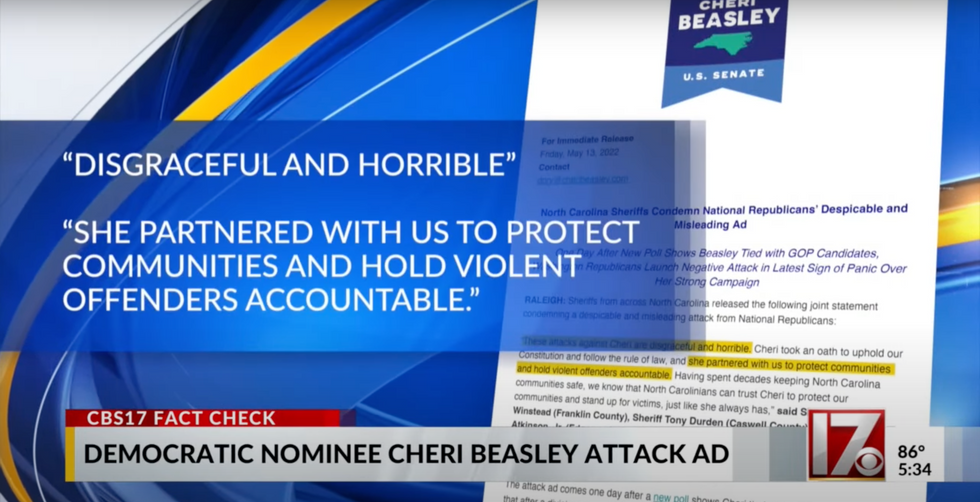 Cheri Beasley is the Democratic nominee for Senate in North Carolina. She was appointed to the bench as a state district court judge in 1999 and was elected to the Court of Appeals in 2012. She served as Chief Justice of the North Carolina Supreme Court for almost two years.
You can't realistically argue that Beasley is unqualified or otherwise unfit to serve in the same Senate as Marsha Blackburn and Tommy Tuberville, but the Republican Party isn't burdened with a conscience. The National Republican Senatorial Committee has released ads that straight-up lie about Beasley's record.
PREVIOUSLY: North Carolina: Here's Your New Democratic Senator Cheri Beasley
The first ad, which features images of crime scene tape, sad children, and a bloody hand, claims Beasley "failed to protect victims" of violent crime.
They were victims of violent crimes like murder and molestation and Chief Justice Cheri Beasley failed to protect them. The murderer who shot a boy in the face? Beasley vacated his death sentence.

The man convicted of sexually assaulting a seven-year-old girl? She threw out the indictment. And that's just the beginning. We can't trust Cheri Beasley to protect our families.
You might recall this line of attack from Ketanji Brown-Jackson's Supreme Court confirmation hearings. If a judge doesn't shoot a sex offender in open court during sentencing, the gross implication is that they're pro-pedophile. This is a new low for a state where Jesse Helms was once a senator.
---
The ad refers to Marcus Reymond Robinson, who received a death sentence in 1994 after shooting a 17-year-old in the face. A Superior Court judge commuted Robinson's sentence to life in prison in 2012 under the state's Racial Justice Act. It was determined that racism significantly influenced jury selection in Robinson's 1994 murder trial. You'd think you could prosecute someone who shot a guy in the face without obvious racial bias.
When Republicans gained control of the state legislature in 2013, they repealed the Racial Justice Act because of course they did. They tried to apply this retroactively, but the Supreme Court ruled that sending Robinson back to death row would violate state and federal double-jeopardy protections. Robinson is still in prison where he can't shoot people in the face.
Beasley wrote the majority opinion that threw out the indictment of Michael Lee White, who was found guilty in 2015 of committing a sex offense against a seven-year-old girl. This is only a "gotcha" if you think that prosecutors have no obligation to meet the legal standards required for indictments. That didn't happen in this case. Beasley can't ignore the law because she doesn't like the outcome. That would be the sort of judicial activism conservatives denounce.
The second ad spreads even more out-of-context smears. Here's the transcript:
Our children are society's most vulnerable, and Chief Justice Cheri Beasley has failed them.

A man seeking sex with a boy online? She tossed the conviction.

The predator who sexually assaulted a seven-year-old girl? Beasley threw out the indictment.

A child porn offender. She voted to set him free.

And, sadly, there's more.

We can't trust Cheri Beasley to protect our families
The child porn offender mentioned in this ad is James Howard Terrell Jr., who was convicted in 2016 for possessing a computer thumb drive with lewd images of minors. An appeals court later ruled that a detective had conducted an illegal search of the thumb drive. The state Supreme Court, with Beasley in the majority, upheld the ruling because they are presumably aware of the Fourth Amendment.

As of May 2020, Mr. Terrell was still in prison, according to court records, and it was on that basis that Ms. [Courtney] Weisman, the Democratic lawyer, demanded the ad be taken down. "To claim that her vote somehow resulted in a defendant being 'set … free' is false," she wrote.
Lawyers for the Democratic Senatorial Campaign Committee rightly complained, and multiple TV stations in Raleigh and Charlotte have pulled the ad. However, the NRSC stands by its gross misrepresentations of Beasley's record.
Simply put, even the worst offenders have constitutional rights, but Republicans are gambling that the average North Carolina voter has no interest in legal complexities, even if Beasley's rulings help ensure they live in a free society. Meanwhile, we can expect the GOP to flood the airwaves with more "OK, groomer" lies and just accuse the media of liberal bias whenever the ads are yanked. It's a win-win for the GOP and a lose-lose for democracy.
[WRAL / New York Times]
Follow Stephen Robinson on Twitter.
Do your Amazon shopping through this link, because reasons.
Yr Wonkette is 100 percent ad-free! Please subscribe, donate, and otherwise help keep us alive and kicking!