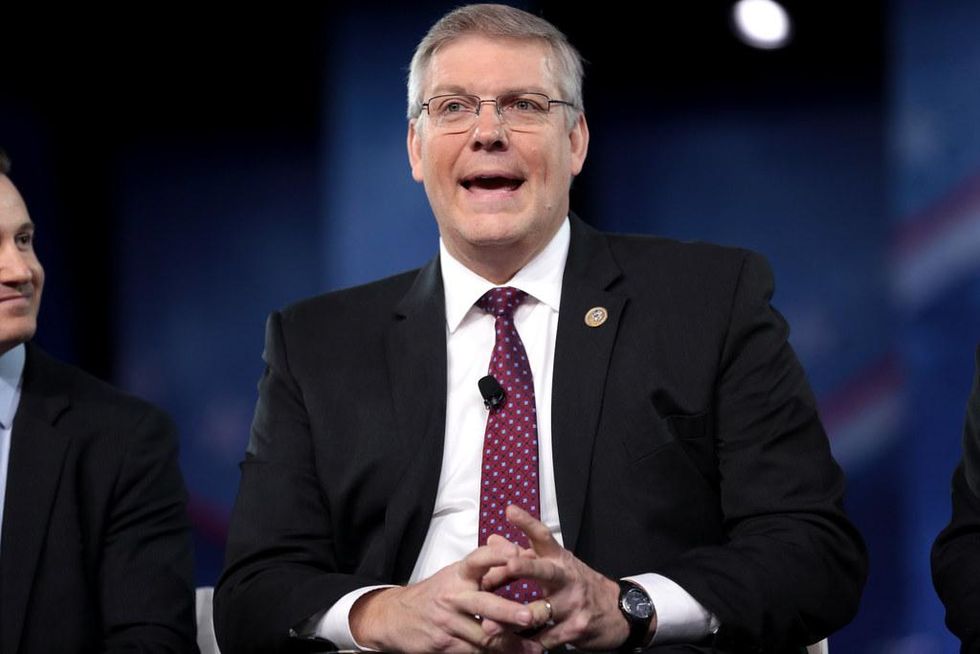 The House January 6 Select Committee has requested the pleasure of the company of yet another member of Congress. This time they'd like to sit down for a little chitchat with Rep. Barry Loudermilk (R-Georgia), about a visit he got from some members of the public on January 5, 2021.
Immediately after the Capitol Riot, rumors began to swirl about MAGA members of Congress leading "reconnaissance" tours of protestors, essentially tipping them off as to how to navigate the notoriously complicated warren of hallways in Congress. On January 13, 2020, Rep. Mikie Sherrill wrote a letter, signed by 33 of her colleagues, asking the Capitol Police and the congressional sergeants at arms to investigate reports of "extremely high number of outside groups in the complex on Tuesday, January 5," an occurrence which was remarked on by staff "for several reasons, including the fact that access to the Capitol Complex has been restricted since public tours ended in March of last year due to the pandemic."

"The visitors encountered by some of the Members of Congress on this letter appeared to be associated with the rally at the White House the following day," they wrote, adding that "Members of the group that attacked the Capitol seemed to have an unusually detailed knowledge of the layout of the Capitol Complex."
---
In response, Loudermilk and Reps. Rodney Davis and Bryan Steil filed an ethics complaint alleging that Sherrill and her cosigners had violated House ethics rules by "making false, spurious, and unsubstantiated accusations against other members." Although Sherrill never used the word "reconnaissance" or mentioned who was giving the tours, Loudermilk angrily insisted that "no Republican Member of Congress led any kind of 'reconnaissance' tours through the Capitol on any date, including January 5, 2021." So, make of that one what you will.
But now it appears that storyline is coming back around, with the Committee's letter to Loudermilk.
"We write to seek your voluntary cooperation in advancing our investigation," Chair Bennie Thompson and Vice Chair Liz Cheney wrote. "Based on our review of evidence in the Select Committee's possession, we believe you have information regarding a tour you led through parts of the Capitol complex on January 5, 2021."
And regarding the GOP's tantrum calling to release the tapes:
In response to those allegations, Republicans on the Committee on House Administration—of which you are a Member—claimed to have reviewed security footage from the days preceding January 6th and determined that "[t]here were no tours, no large groups, no one with MAGA hats on." However, the Select Committee's review of evidence directly contradicts that denial.
LOL.
Loudermilk is now screaming like a stuck pig.
"A constituent family with young children meeting with their Member of Congress in the House Office Buildings is not a suspicious group or 'reconnaissance tour,'" he insists, although none of the Democrats have characterized it as such. "The family never entered the Capitol building."
"The 1/6 political circus released the letter to the press before even notifying Mr. Loudermilk, who has still not received a copy," he screeched. "The Select Committee is once again pushing a verifiably false narrative that Republicans conducted 'reconnaissance tours' on January 5th."
"We call on Capitol Police to release the tapes," he concluded.
Safe bet that the congressman will not be accepting the Committee's kind offer to tell his own side of the story. But as for his wish that Americans get to see the tapes and decide for themselves … that one seems a virtual certainty.
[Committee Letter to Loudermilk / Loudermilk Response]
Follow Liz Dye on Twitter!
Click the widget to keep your Wonkette ad-free and feisty. And if you're ordering from Amazon, use this link, because reasons.