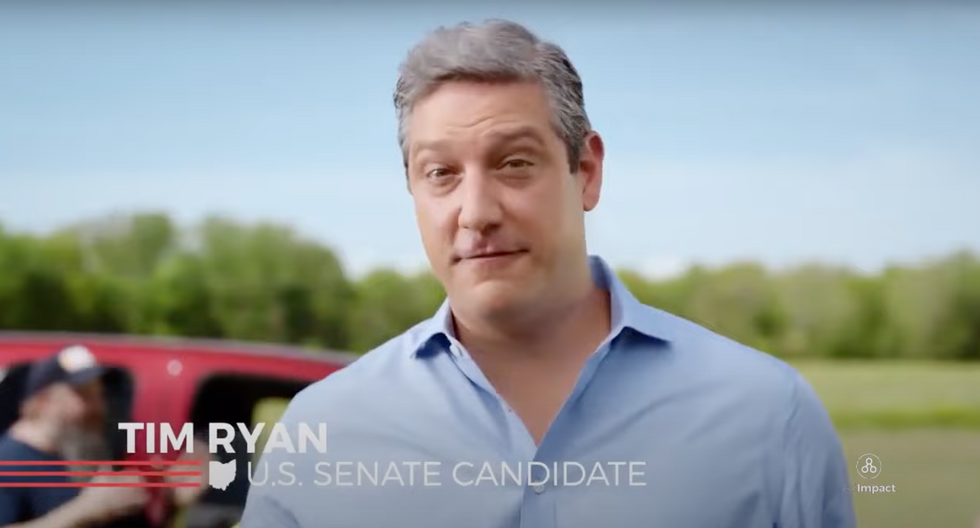 The US Senate seat in Ohio that Republican Rob Portman's vacating is generally considered a big reach for Democrats. Donald Trump easily won the state in 2016 and 2020. It seems like a slam dunk hold for Republicans, but a new poll shows a closer race than you'd expect.
A USA Today Network Ohio/Suffolk University survey released today has Hillbilly Zelig candidate JD Vance leading Democratic Rep. Tim Ryan by just two percentage points among likely Ohio voters. That's well within the margin of error.
PREVIOUSLY: JD Vance Pretty Sure America Needs To Laugh More At People's Tragic Deaths
Vance received the support of 41.6 percent of voters questioned compared to Ryan's 39.4 percent. Almost 17 percent of respondents percent remain undecided in the closely watched race to replace retiring Sen. Rob Portman (R).

Additionally, 39.8 percent of respondents said they find Ryan more favorable, compared to the 34.6 who say the same about Vance.
---
This all looks good. Despite Trump's endorsement, Vance is not yet matching Trump's 53 percent of the vote. Ryan is not yet at Biden's 45 percent, but he has more room to grow, especially with the sizable percentage of undecided voters. It's also revealing that more Ohio voters find Ryan more favorable than Vance, who's a soulless fraud. Sure, a voter can support a candidate they don't personally like but who will advance their favored positions — that's a big lesson from 2016. But the GOP has spent the past year smearing Democrats as pedophile groomers. If Ryan is withstanding this barrage, there's reason to hope.
Or not. Washington Post congressional reporter Paul Kane quickly doused the USA Today/Suffolk poll with a bucket of rhetorical ice water.
He tweeted: "This poll will send liberal hearts racing, but as [Democratic Senatorial Campaign Committee Chair Gary Peters] told me last summer, he's no interest in chasing 'reach' states. DSCC won't admit it, but they won't chase Ohio as their predecessors chased Alaska, Indiana, SC, etc. There's a core focus of about 6-7 races. No more."
Alaska, Indiana, and South Carolina are solid red states. Democrats have won statewide in Ohio fairly recently. Kenyan-born socialist Barack Obama carried the state twice, and Sen. Sherrod Brown held his seat in 2018 with 53 percent of the vote. Yes, he enjoyed the advantage of incumbency, but that wasn't enough to save former Democratic Senators Joe Donnelly from Indiana and Ben Nelson from Florida.
Ryan has arguably modeled Brown's down-to-earth, relatable appeal. He's also zeroed in on Vance's many flaws, picking at them like a scab with every ad and tweet.
Ryan isn't claiming he's more bipartisan or loves the cops more than Vance. He's making clear to voters that Vance isn't someone they should trust. Obama did the same to Romney in Ohio.

Kane added in another tweet: "What Peters said last summer: 'My goal is just to win. And 52 or 53 is OK with me … [In 2020 Peters] clamored for more resources to shore up his must-win race [in Michigan] … 'Oh, Michigan, you're fine. We're going to put our money in X.' Another state that wasn't going to happen."
Peters narrowly held his Senate seat by less than two points, slightly underperforming Biden. This might make him salty about Ryan's chances. However, even if his goal is "just to win," it doesn't make sense to abandon Ohio. Democrats would need to hold Arizona, Georgia, Nevada, and New Hampshire, which are all currently rated tossups. That only maintains our current Manchin/Sinema-stymied majority. If we want to reach 52 or 53 seats, Democrats would need additional victories in Pennsylvania, Wisconsin, and Florida. I like Rep. Val Demings, but I consider her bid to unseat Sen. Marco Rubio more of a "reach" than Ryan's campaign. A February poll had her down seven points.
Donating to Amy McGrath and, yes, Jaime Harrison was setting your money on fire. However, Tim Ryan is worth the reach.
[The Hill]
Follow Stephen Robinson on Twitter.
Do your Amazon shopping through this link, because reasons.
Yr Wonkette is 100 percent ad-free! Please subscribe, donate, and otherwise help keep us alive and kicking!