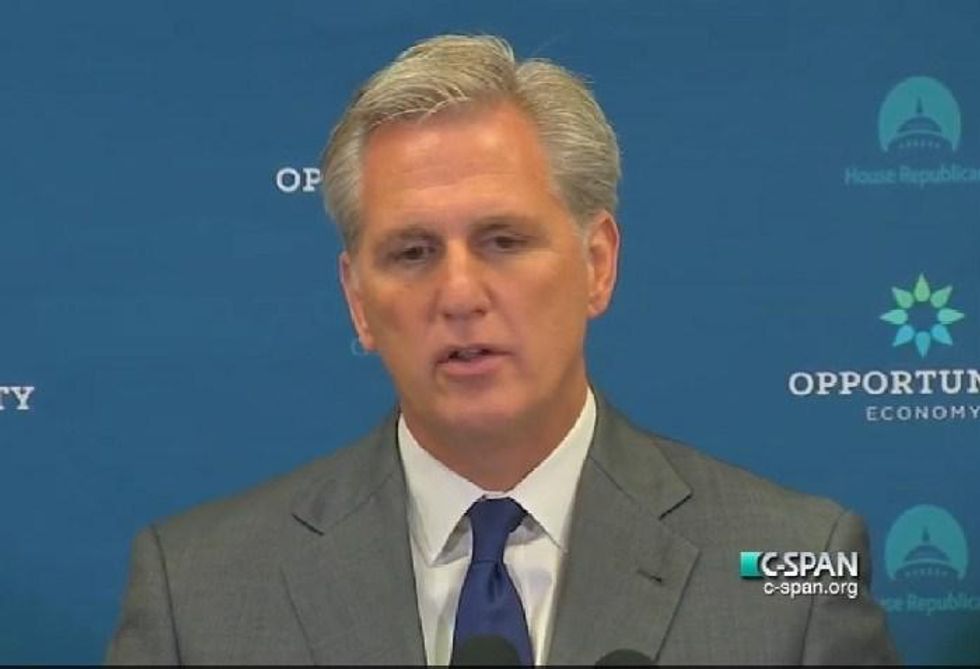 The January 6 Committee hearings have done a great job documenting wannabe despot Donald Trump's blatant attempts to steal the 2020 election. The proof is in the polling: An ABC News survey shows that six out of 10 adults support prosecuting Trump for his starring role in the January 6 Capitol attack. This includes 91 percent of Democrats, 19 percent of Republicans, and 60 percent of independents.
That's an increase from late April, when the same pollsters found that barely over half of US adults supported charging Trump. The results may indicate the persuasive effect of the committee's first three hearings, which have so far spun a compelling narrative about how Trump and his cronies attempted to undermine the election. About 60 percent of US adults believe the committee's investigation has been fair and impartial, according to the new poll.
Trump is obviously pissed, and as usual, he blames everyone else for his problems. During an interview last week with Wayne Allyn Root, Trump whined:
"This committee, it was a bad decision not to have representation on that committee," Trump said. "That was a very, very foolish decision because they try to pretend like they're legit, and only when you get into the inner workings you say 'what kind of a thing is this?' Just a one-sided witch hunt."
And yes, the former insurrectionist-in-chief was clearly calling out limp dishrag GOP leader Kevin McCarthy, calling it a "very, very foolish decision" he made when he ultimately walked away from negotiations rather than replace the two Republicans he picked who were objectionable to Nancy Pelosi.
PREVIOUSLY: Kevin McCarthy Can't Support January 6 Commission If It's Gonna Be About January 6
---
If you'll remember, before there was to be a Commission before there was a Select Committee. McCarthy's hand-picked surrogate GOP Rep. John Katko had negotiated a pretty sweetheart deal with Pelosi's top negotiator, Rep. Bennie Thompson, who went on to chair the eventual January 6 Committee. Each party would've gotten five members and Republicans would've had veto power over subpoenas, so presumably the only witness would've been Hunter Biden's laptop. Thompson did put his foot down over expanding the commission's scope to include an unrelated investigation into the 2020 racial justice protests. This felt like the sort of absurd ask you include in negotiations you're otherwise dominating so that the other side feels like it actually got something. Instead, McCarthy pitched a fit and pulled his support.
The Democratic House majority still went ahead and passed the legislation, which the Republican Senate minority killed. Pelosi called the GOP's bluff and convened a select committee. McCarthy picked a rogue's gallery of Big Lie promoters and overall doofuses — Reps. Jim Banks of Indiana, Kelly Armstrong of North Dakota, Rodney Davis of Illinois, Jim Jordan of Ohio, and Rep. Troy Nehls of Texas. These weren't viable committee members. Some were potential material witnesses.
PREVIOUSLY: Nancy Pelosi To Kevin McCarthy: Try Again, MFer
McCarthy missed the first rule of mob "justice." You don't put actual wiseguys on the jury. That's too much. You go for an outwardly respectable librarian with gambling debts. Pelosi rejected Jordan and Banks with extreme prejudice, and McCarthy could've replaced them with people like Rep. Nancy Mace from South Carolina or Nicole Malliotakis from New York. Instead, he pulled every Republican from the committee.
GOP Reps. Adam Kinzinger and Liz Cheney would later thumb their noses at McCarthy and accept Pelosi's invitation to join, and McCarthy thought calling them RINOs would make Americans forget who Liz Cheney's father is. Every decision McCarthy made during this process has resulted in the complete opposite of what he might've wanted.
Now, Trump is reconsidering his choice in stooges. When Root said Trump had endorsed the current minority leader for speaker, Trump insisted, "No, I haven't. No, I haven't. No, I endorsed him in his race, but I haven't endorsed anyone for Speaker."

And, you know what, he's right! WhenNew York Times reporters Alex Burns and Jonathan Martin released tapes of McCarthy telling Cheney that he planned to ask Trump to resign after the January 6 attack, Trump issued a statement saying, "Kevin McCarthy has my Complete and Total Endorsement for California's 20th Congressional District!"
McCarthy doesn't need Trump's help to keep his House seat, but he needs the mad MAGA king's support if he wants the speaker's gavel. If public demand for Trump's prosecution grows, he might cut McCarthy loose.
Unfortunately, "Speaker Elise Stefanik" doesn't make us feel any better about 2023.
And with that sunny thought in your head, we leave you to OPEN THREAD.
[Mother Jones / Mediaite]
Follow Stephen Robinson on Twitter.
Do your Amazon shopping through this link, because reasons.
Yr Wonkette is 100 percent ad-free! Please subscribe, donate, and otherwise help keep us alive and kicking!