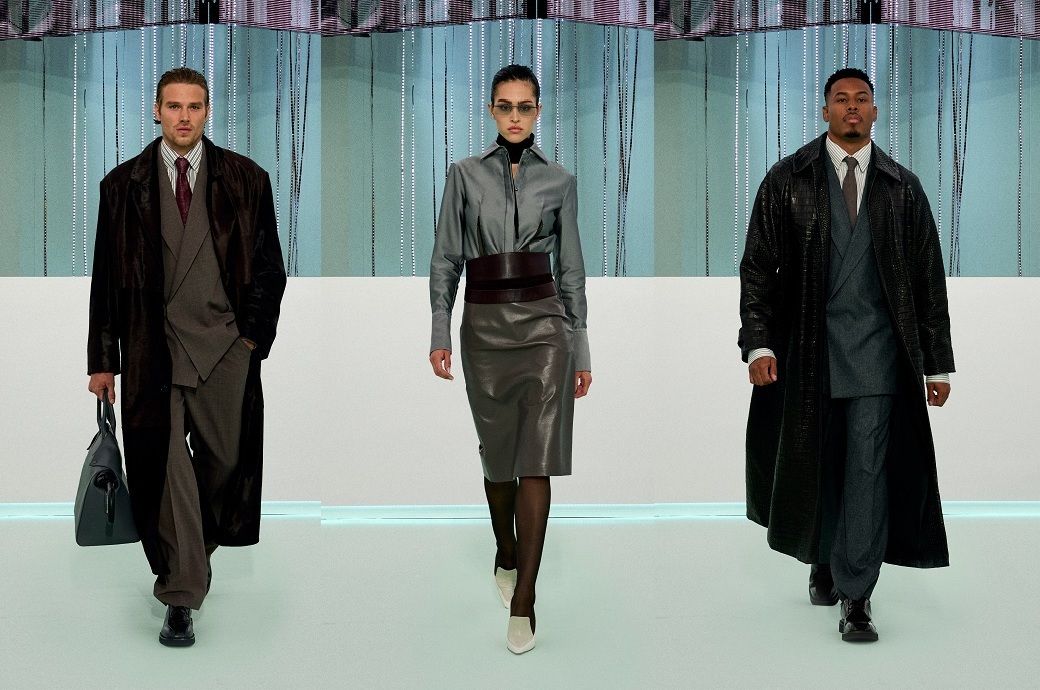 For its Fall/Winter 2023 fashion show, German brand Boss introduced the CorpCore collection, transforming the venue into the Boss Techtopia. The new collection breaks the codes of traditional office attire with contemporary spins on classic staples in men's and women's wardrobes, from blazers and suits to shirts and pencil skirts.
Modern, super-stretch suiting has been made from the brand's bestselling performance fabric, printed with traditional patterns, while deconstructed designs honour Boss's signature craftsmanship in a refreshing way. Belting adds definition to boxy cuts; deep slits and double-way zips bring intrigue and versatile styling options to timeless silhouettes, Boss said in a press release.
For its Fall/Winter 2023 fashion show, Germany's Boss unveiled the CorpCore collection.
The collection modernises office attire, featuring items like deconstructed suits, blazers, and pencil skirts.
The materials used include the brand's popular performance fabric, and the designs feature innovative touches such as belting and double-way zips.
The collection is rich in crisp, structured fabrics and sharp silhouettes, with an emphasis on a clean, uninterrupted look. Visible buttons and zips are removed from their typical placements, putting focus on the tailoring expertise. Its sophisticated, muted colour palette draws from the neutral hues commonly seen in the corporate workplace, ranging from timeless grey and white to shades of brown and green. Black—a classic in any Boss collection—also features heavily, including on pieces adorned with the signature B-monogram pattern, which links back to the brand's corporate identity.
In the realm of accessories, playful references to office objects like paper clips, pens, and folders are reworked in unexpected means. Details such as numerical locks on briefcases lend a statement finish to bags and shoes.
As part of Boss's The Change initiative and the brand's long-term partnership with HeiQ AeoniQ, LLC—both of which intend to usher in a more innovative and sustainable approach to fashion—the 'see now, buy now' collection also includes three limited-edition outerwear styles in HeiQ AeoniQ fabric. This material serves as a substitute for oil-based filament yarns, such as polyester and nylon, for a lower environmental impact.
The collection was presented at Milan's Allianz MiCo conference centre on September 22, 2022, before a group of over 1,000 guests.
"The Boss Fall/Winter 2023 collection is an evolution of our brand's tailoring heritage," said Marco Falcioni, SVP of creative direction at Hugo Boss. "I loved the creative challenge of taking the traditional office attire of the executive—a look not typically associated with breaking boundaries—and shaking it up to make it new, exciting, and representative of the multi-faceted modern Boss. It's a celebration of suiting as a tool for empowerment, confidence, and individuality—values that drive our core message, 'Be Your Own Boss'".

Fibre2Fashion News Desk (NB)